EVRI-thing You Need to Know About Automated Hierarchical Classification Models
March 14, 2023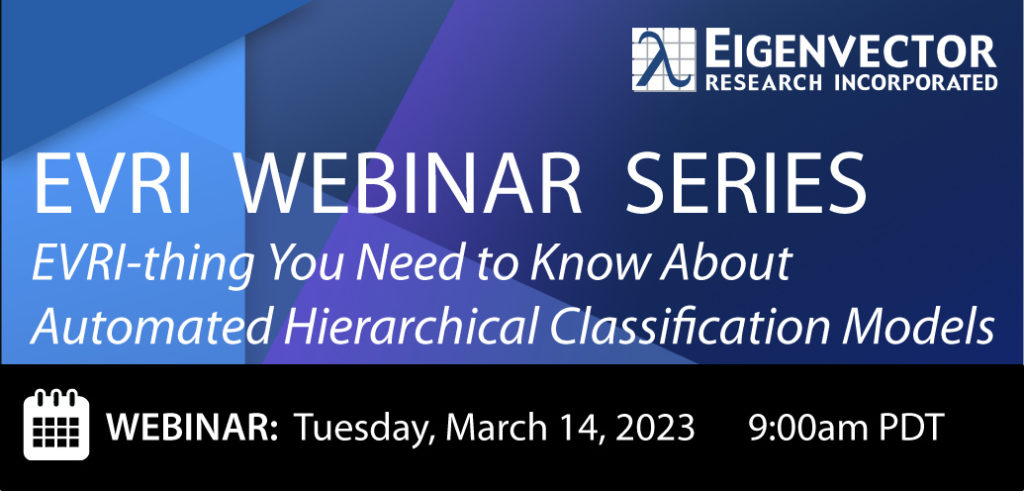 Join us on Tuesday, March 14 for "EVRI-thing You Need to Know About Automated Hierarchical Models." University of Copenhagen Professor Rasmus Bro will present with help from Eigenvector Technology Principal Bob Roginski.
The recently released PLS_Toolbox and Solo version 9.2 includes many improvements and additions, but perhaps the most exciting is the Hierarchical Model Automatic Classifier (HMAC) tool. The HMAC automatically creates a decision tree of Partial Least Squares Discriminant Analysis (PLS-DA) models for complex classification problems. It is based on the recently published AHIMBU method (Marchi, Lorenzo, et al. "Automatic Hierarchical Model Builder." J. Chemometrics, 36(12), Nov. 2022). In this webinar we'll cover
Introduction to hierarchical models
Brief review of the Hierarchical Model Builder (HMB) tool
The AHIMBU method
Using the HMAC tool in PLS_Toolbox and Solo
Advantages of AHIMBU: interpretability and transparency
A question and answer session will follow the webinar. Don't miss your chance to quiz Rasmus, Bob and the Eigen-Guys about how to solve tough classification problems with the automated hierarchical modeling tool in PLS_Toolbox and Solo 9.2!
Register for "EVRI-thing You Need to Know About Automated Hierarchical Classification Models" through your existing Eigenvector account, or create one. The webinar is free, but you must register to attend. Find the webinar near the bottom of the page under the "Purchase" tab.
The webinar will be live on Tuesday, March 14 at 9:00am PDT, (that's 17:00 CET, 12:00 EDT). Reserve your seat today and we'll send you a WebEx meeting invitation a couple days before the event. We hope you can attend, but if you sign up and can't make it, we'll send you a link to view the recording the day after the webinar.