MRST Shines at Eigenvector Research NW Cup Finals
Apr 19, 2015
The 2014-15 ski season wrapped up at Mission Ridge on April 9-12 with the Eigenvector Research NW Cup Finals. It was a great four days which included two days of Giant Slalom (GS) races and two days of Slalom (SL) races, plus a bonus Dual Slalom on the final afternoon. Mission Ridge Ski Team (MRST) athletes had an awesome weekend winning 8 out of the 10 races along with many other podium finishes. Victories were captured by Lindsey Ahmann (GS1, SL1), Hannah Bodily (GS2, SL2 and the Dual SL) and Brian Davidson (GS1, GS2 and the Dual SL). There were also numerous other podium appearances including 2 each from Max Tobler and Gunnar Lundteigen. Plus Max Tobler, who also coaches young skiers for MRST, captured the overall NW Cup title based on his performance over the whole season. Max can be seen ripping up the Dual SL course. (Thanks to Brian Platt and SkiRacePhoto.com for the great shot!)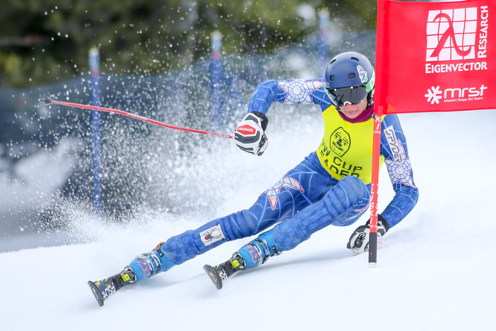 With all the possible things that a company might sponsor, why ski racing? Well, anybody who knows me very well knows that I just love skiing and ski racing in particular. Although I've skied since I was five, I got a late start at racing and really didn't get serious about it until after I graduated from undergrad. I never got enough of it and still compete when I can squeeze it into the schedule. And of course we raised two ski racing daughters, with one still racing and one coaching, so we've had something of a vested interest.
But we're happy to support ski racing because, like most sports, it is good for kids. The youngest kids learn to be on time, keep track of their gear, be good sports, work on their conditioning, etc. As they get older and more time and travel is involved, athletes learn time management so they can keep up their studies and get their ski prep work done in addition to the time they spend on the hill and in the gym. They learn about living with teammates and sharing work duties like meal prep and clean up. Plus it promotes an appreciation of nature and love of the outdoors.
But beyond that, ski racing combines speed, athleticism, skill and mental toughness like no other sport. Strength and conditioning are key, but they don't guarantee success. To be fast, ski racers must learn techniques that at first seem awkward and, well, dangerous. Example: getting pressure on the new ski at the TOP of the turn. To do this requires skill and confidence. You have to believe it is going to work, and if you don't believe it, it won't. When they are in the start gate ski racers have to believe that they can execute their plan in spite of often sub-optimal course and weather conditions, all at 40+ mph.
In short, ski racing teaches a great work ethic and instills confidence. It turns good kids into great young adults. And that's why Eigenvector is proud to sponsor the Mission Ridge Ski Team and NW Cup Finals.
BMW