EVRI-thing You Need to Know About Deploying Models with Model_Exporter
July 22, 2020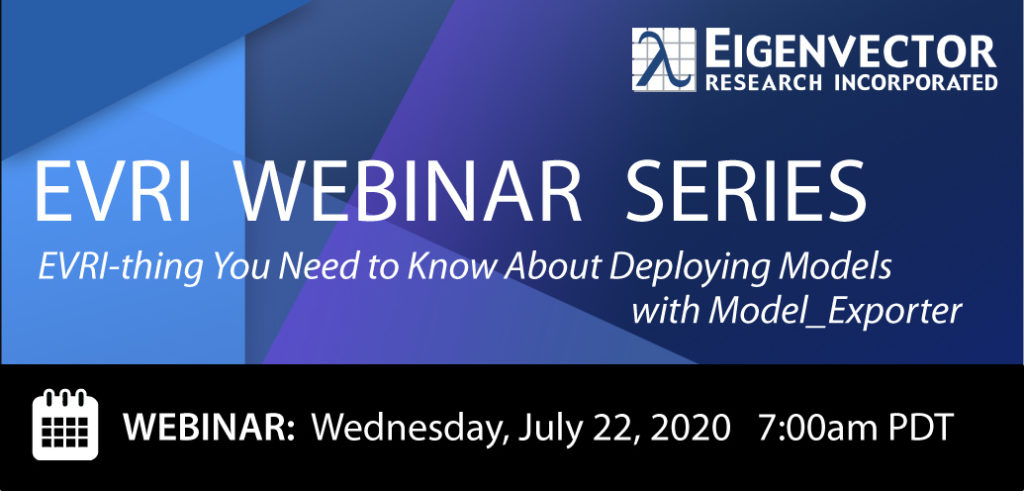 Join us Wednesday, July 22 for the eleventh installment of our webinar series "EVRI-thing You Need to Know About Deploying Models with Model_Exporter." Eigenvector's Technology Principal Bob Roginski will present.
Need to apply chemometric models at high speed or on a hand-held device with low computing power? Or want to distribute models across many devices with no proprietary software or licensing fees? Model_Exporter creates numerical recipes from PLS_Toolbox/Solo chemometric models that can be efficiently compiled into your application or applied in other computing environments. This includes a wide array of calibration and classification methods (PCA, PLS, PLS-DA, SVMs, ANNs, etc.) and preprocessing schemes (centering, scaling, derivatives, normalizations, etc.).
In this webinar we'll demonstrate how to use Model_Exporter to:
Create numerical recipes in generic XML
Export functions to apply models in LabView®, Octave and MATLAB® (of course!)
Create code to apply models in Python, Java and .NET languages (C#, etc.)
Update models without recompiling
When using Model_Exporter there's no need to re-create models in other environments. In this webinar we'll show you how you can let Eigenvector do the math!
Register for "EVRI-thing You Need to Know About Deploying Models with Model_Exporter" through your existing Eigenvector account, or create one. The webinar is free, but you must register to attend. Find the webinar near the bottom of the page under the "Purchase" tab.
A question and answer session will follow the webinar. Don't miss your chance to quiz Bob and the Eigen-Guys about how to use PLS_Toolbox/Solo with Model_Exporter to build and deploy models for prediction and classification.
Reserve your seat today. The webinar will be live on Wednesday, July 22, at 7:00am PDT, (that's 16:00 CET). We will send you a WebEx invitation the day before the webinar. We hope you can attend, but if you sign up and can't make it, we'll send you a link to view the recording the day after the webinar.