EigenU 2016 Poster Winners
Oct 6, 2016
Each spring at Eigenvector University in Seattle we showcase the scientific accomplishments of our users at the PLS_Toolbox/Solo Poster Session. With EigenU Europe quickly approaching, we thought it was about time to congratulate our poster winners from EigenU 2016 last April!
Brooke Reaser of the University of Washington, and Claire Muro of the University at Albany took home the poster prizes at the 11th Annual Eigenvector University. Brooke's work used principal component analysis to determine the uptake of 13-C-labeling in Methylobacterium extorquens, while Claire's poster focused on the differentiation of body fluid traces using PLSDA models. Their posters are attached below; congrats, ladies!
Forensic Body Fluid Differentiation Poster

"PLS_Toolbox doesn't just help with my research, it is an integral part of all of my work. I work with Raman spectroscopy, and my experimental data for any given project is usually thousands of spectra. I would say that PLS_Toolbox is just as important to my research as my Raman spectrometer, and I mean that. I wouldn't be able to process the data or learn anything from it any way other than multivariate data analysis." -Claire Muro, University at Albany PhD Candidate.
PCA C-13 Labeled Methylobacterium Extorquens AM1 poster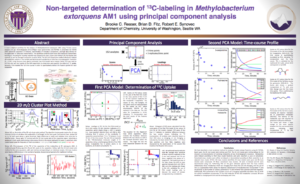 "EigenU helped give me the idea to apply PCA to my metabolomics project in the first place, and the skills I learned there helped me in applying it successfully and meaningfully. EigenU is a wonderful, positive and informative place to learn about chemometrics methods that I feel confident applying to not only my research, but suggesting to collaborators as well." -Brooke Reaser, University of Washington PhD Candidate.
For their efforts both Claire and Brooke took home Bose sound system products. Claire selected the Bose QuietComfort Headphones while Brooke took home the Bose Soundtouch Speaker System. We hope you enjoy them, you earned them! Congratulations again!
STAY CONNECTED WITH US!
Eigenvector now has an Instagram account! Follow @eigen_guys to keep up with the latest adventures of the Eigenvector team, and make sure to check out our Twitter account for up-to-date info on courses and software.