EigenU Europe Recap
Nov 7, 2016
Another successful EigenU Europe is in the books with the conclusion of classes October 27 in Montpellier, France! We had a great group of students who participated in this four-day course series. Instructors included myself and Prof. Rasmus Bro, plus our special guest Dr. Sébastian Preys of Ondalys.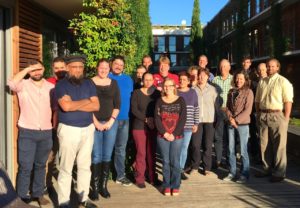 After a rainy start to the week, the sun finally came out on Thursday and provided an opportunity for an outdoor class photo (top). You can tell that we're all having trouble looking towards the tremendously bright, southern France sun. The weather made for a great travel day to end the class on.
Rasmus Bro is shown introducing Parallel Factor Analysis (PARAFAC) to the class (bottom) in the Intro to Multi-way Analysis course module. Rasmus also did a module on Variable Selection, while Sébastian Preys covered Multi-block Models for Data Fusion. We also covered Clustering and Classification in addition to our introductory block of basic classes.
Many thanks to Sylvie Roussel, President of Ondalys, Cécile Fontange and Sandra Aubert for help with the local arrangements: you really made things easy for us! We really enjoyed the Marriott Courtyard, which provided a convenient location, modern conference and sleeping rooms, and delicious group lunches (I especially enjoyed the foie gras and lamb shank). We're seriously considering return to Montpellier again next year–details to come!
Thanks to all our participants, many of whom travelled great distances to join us. This included students from across Europe and also from the United States and Australia. We trust your new chemometric skills will serve you well!
BMW